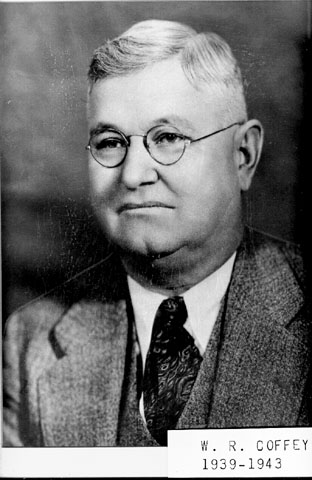 Wade R. Coffey was the grandson of Irish emigrants on his paternal side. He was the son of Ohio-born John and Elenore Coffey, and was born in Kansas Jan. 30, 1887.
Wade was the third child of John and Elenore. Ethel, the eldest, was born in April, 1891. Harry was the second born, and came along in May, 1883. Frank followed Wade, and was born in June, 1889. Like Wade, all of their children were born in Kansas.
By 1910 Wade had married, and was in the grain business in Cowley Co., KS. By 1920 he and Hallie had two sons, Cecil and Harley. He was a bank cashier in Dexter, Cowley Co. By 1930 he was president of the bank, and undoubtedly involved in local politics.
In 1939 he was elected Mayor of Winfield, and after spending 4 years out of office, he was again elected to that office in 1943.
His son Cecil was elected Mayor of Winfield in 1963, and again n 1973.
Wade died Sep. 3, 1964, and is buried in the Highland Cemetery, Winfield.